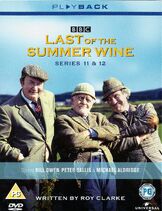 Series 12
The Last of the Summer Wines twelfth series aired on BBC One. All of the episodes were written by Roy Clarke and produced and directed by Alan J. W. Bell.
With the departure of Michael Aldridge who had left to nurse his ill wife, the character of Foggy Dewhirst returned to the fold.
Pages in category "Series 12"
The following 10 pages are in this category, out of 10 total.
Ad blocker interference detected!
Wikia is a free-to-use site that makes money from advertising. We have a modified experience for viewers using ad blockers

Wikia is not accessible if you've made further modifications. Remove the custom ad blocker rule(s) and the page will load as expected.